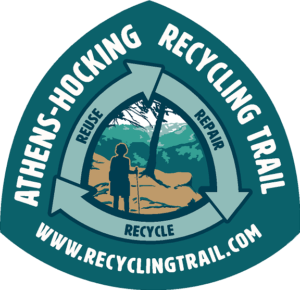 The Athens-Hocking Recycling Trail is the first of its kind! The trail is devoted to conserving energy, resources, and the environment by connecting locals and visitors with nearby businesses and organizations where they can reuse, repair, and recycle materials.
are you looking to get rid of or purchase something?
Purchase
Check out the Reuse Trail Stops and shop local for gifts, secondhand items, and much more.
Get Rid Of
Is your item functional?
Yes
Identify a Reuse category your item falls within, locate the Trail Stop on the map, and drop off your item during their business hours.
No
Look through the Repair categories to see if there is a Trail Stop available to repair your item.
If not, can it be repaired or is it ready for recycling?
It's Repairable
Contact a Repair Trail Stop to see if they can help extend the life of your item.
It's Ready for Recycling
Identify a Recycle Trail Stop that accepts your item and drop it off during their business hours. If no stops accept your item, see if it will be accepted at the next AHSWD Recycling Day.
Questions, comments, or requests for edits? Contact AHSWD at ahswd@nelsonvilletv.com or call 740-753-6885.