MOVING OUT? MOVING ON?
Don't Trash Your Stuff.


Donate & Recycle Right.
Give your items another home and help keep them out of our landfills. Remember these local partners and organizations when you have unwanted items you no longer need. Here's HOW and WHERE to give back, donate, or reuse! 
ATHENS CO. RECYCLING DAY – SATURDAY, APRIL 22ND @ ATHENS COUNTY FAIRGROUNDS, 9AM – 1PM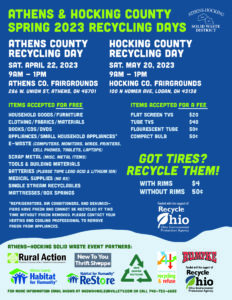 OHIO Move Out – OHIO UNIVERSITY CAMPUS RECYCLING & ZERO WASTE
Move Out Matters
"Ohio University, local non-profit organizations and the Athens County Fairgrounds host a Community Give Back Day. Each Res Hall will have a donation station, which a student can drop off unwanted materials including: carpets, small appliances, clothes, bedding, furniture and food. The donated materials are collected and sorted throughout finals week and prepped for the big event.
Community Give Back Day is a two-day event which is open to the public. Community members are provided a pre-organized food box with staple items, chips, breakfast bars and more. A family or individual is allowed one large item of furniture (futon, desk couch..), up to 25 articles of clothing, unlimited rugs, small appliances and bedding.  
This year 90,405 lbs. was collected and donated back to the Athens community."
For more information on how to get involved with next year's event, please email recycle@ohio.edu(opens in a new window)
Goodwill of South Central Ohio
CALL WILL FOR PICKUP (740) 672 – 3370

Habitat for Humanity
Call (740) 589-5865 to schedule a pick up. Pick ups available Monday-Thursday the week leading up to Ohio University move out.  Additional pick ups on May 5th & 6th

Donation Drop Off Locations & Dates
Friday, May 5th & Saturday May 6th 9AM – 4PM
Christ Lutheran Church Mill Street – 69 Mill St, Athens
History Center North Congress – 24 W State St, Athens
Station Street Apartments West Union Street – 123 W Union St, Athens
Accepted items:
– Appliances in working condition (includes small appliances)
– Cabinets & Countertops free from structural or water damage, complete with all doors/drawers
– Electrical (residential electrical items only like vacuum cleaners, toasters, coffee makers, etc.)
– Furniture & Upholstered furniture in good, usable condition (No cracks, tears, holes, missing pieces such as feet). No box springs or mattresses accepted.
– Lighting with all hardware.
– Miscellaneous items: AC Units, Hand & Power Tools, Books (How-to, DIY, or skilled trades only), mini blinds & window shades new in the box.
– Paint in original can, lid must be free from rust and dried paint. Partial cans are accepted.
– Lumber
– Tools & Garden Items in working condition.