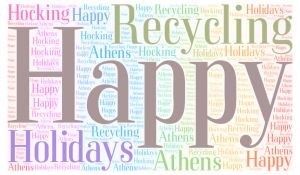 Tips for your 2021 Happy Recycling Holidays
1. Keep in mind that there may be a delay for your garbage & recycling pick up.    If you are taking materials to a Drop-Off location, consider doing it on a day after it has been picked up or during the week.  If the containers are full; do not place materials on the ground-bring them back another day.  Also, do not use plastic bags, just place materials in the containers and if possible crush materials containers so there will be more room in the containers.
2.  If you get new appliances or furniture, take your working appliances and good condition furniture to a thrift store or restore shop; many retailers do have a recycling service which costs additional money, but it reduces your work.
3.  When planning for special meals; encourage guests to bring reusable containers for leftovers or sharing.  You can also google new recipes for holiday leftovers.
4.  When shopping take reusable bags instead of getting new ones.  It is easier to tell family that the gift is your leftover lunch or groceries when you get them back to your house.
5.  Consider giving Zero Waste gifts like memberships or donations to local or non-profit organizations.   You can also gift things like:
6.  When hosting family and friends, use real plates, napkins and glasses and set up a guest recycling station for cans, bottles and other materials.
7.  Consider alternatives to wrapping a gift or use a reusable bag.  Click here for the "Is my gift wrapping paper recyclable and other gift wrapping tips.
8.  When getting a new item with lots of packaging, separate it and flatten boxes.  Some materials can be recycled-plastic bags and styrofoam are not recyclable at this time.
9.  Batteries can be recycled; make sure to tape the ends of the battery with shipping or electrical tape.  Battery recycling is available -Click Here.  
10.  Here are tips from Ohio Environmental Protection Agency-Click Here
What do you do to reduce waste during the holidays?
Send your ideas to: ahswd@nelsonvilletv.com and we will give you credit for it (if you like).